In determining the equilibrium constant for a reaction, reactants or products in
Chemistry

Tutor:

None Selected

Time limit:

1 Day
In determining the equilibrium constant for a reaction, reactants or products in solid or aqueous form are not included in the expression.
True or false.
Jun 25th, 2015
Thank you for the opportunity to help you with your question!
false
the aqueous form are included.

The equilibrium constant expression is the ratio of the concentrations of a reaction at equilibrium. Each equilibrium constant expression has a constant value known as K, the equilibrium constant. When dealing with partial pressures, Kp is used, whereas when dealing with concentrations (molarity), Kc is employed as the equilibrium constant. Reactions containing pure solids and liquids results in heterogeneous reactions in which the concentrations of the solids and liquids are not considered when writing out the equilibrium constant expressions.
Introduction
We are going to look at a general case with the equation:
aA+bB⇌cC+dD
No state symbols have been given, but they will be all (g), or all (l), or all (aq) if the reaction was between substances in solution in water. If you allow this reaction to reach equilibrium and then measure the equilibrium concentrations of everything, you can combine these concentrations into an expression known as an equilibrium constant.
The equilibrium constant always has the same value (provided you do not change the temperature), irrespective of the amounts of A, B, C and D you started with. It is also unaffected by a change in pressure or whether or not you are using a catalyst.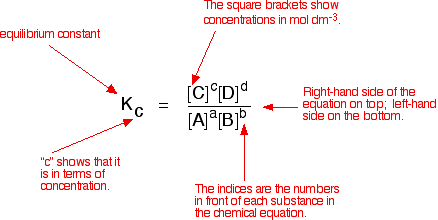 Please let me know if you need any clarification. I'm always happy to answer your questions.
Jun 25th, 2015
---
Oct 27th, 2016
check_circle
Mark as Final Answer
check_circle
Unmark as Final Answer
check_circle
Final Answer
check_circle
Final Answer